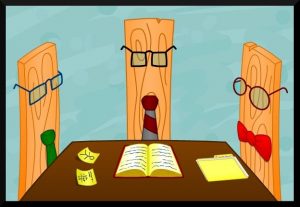 Board meetings and board members, what are they for? A non-profit governing board serves many purposes. First and foremost, the board oversees financial and legal decisions. CAPSA's governing board approves new hires and salary increases. They also make new policies such as our Donor Privacy Policy. CAPSA board members have also testified before the state legislature about the need for funding to ensure continued use of the LAP.
Board members provide support for CAPSA, it's employees, it's events and it's mission. CAPSA board members assist the organization by helping organize and facilitate events. Throughout December, board members open and close the CAPSA gift wrap. During the spring, members help plan and execute the 5K, and members make invitations to friends, family and associates to attend events such as CAPSA's Wine Pairing and Trivia Night.
Our board consists of university professors, accountants, law enforcement personnel, business owners, stay-at-home moms and lawyers. The diversity of our board members should be reflective of the valley. It should also allow for in-depth discussions about how CAPSA's policies and practices will affect various community members. Domestic violence is no respecter of persons, and neither is our board. We want to know what the challenges and barriers would be to both a businesswomen and a police officer facing a domestic violence situation. By having a variety of backgrounds represented, a healthy dialogue can be created.
Board members are constant representatives of CAPSA. Board members tell their friends, family and colleagues about CAPSA and it's latest initiatives. Board members invite their connections to Lunch with CAPSA or on a tour of our facilities, so that men and women throughout the valley can learn more about our services, and how we can help them. Board members are also advocates within the community.
Truthfully, our board members do a lot. There is no limit to their influence on CAPSA and it's employees, and there's no adequate way to express our gratitude for them.
Thank you to our board members: Beth Foley, Brad Franke, Chris Guymon, Christy Glass, Donna Alder, Jan Stander, Kacie Malouf, Mike Guthrie, Ronda Callister, Scott Stettler and Tara Williams. You all are amazing and do tremendous work on behalf of CAPSA.
To learn more about how a non-profit board should run, visit Nonprofits Are Messy by Joan Garry Consulting.
https://www.capsa.org/wp-content/uploads/2017/08/CAPSA-Logo-Large.png
0
0
James
https://www.capsa.org/wp-content/uploads/2017/08/CAPSA-Logo-Large.png
James
2017-12-18 14:36:55
2017-12-18 14:36:55
Board Meetings