A Safe Home is essential to healing
For individuals and families escaping abuse, a safe home is important to the healing process. Yet, for individuals leaving an abusive home, finding low cost/affordable housing continues to be the most significant barrier to start a life free from abuse.
CAPSA's Transitional Housing Program is a two-year program which includes housing subsidies coupled with advocacy and educational programming. The program focuses on developing independence by reducing housing expense and assisting clients as they work toward a life asset such as a down payment on a home, and education.
CAPSA's housing caseworkers help clients find housing and supports them during this transition – this may include short-term assistance or housing subsidize for up to two-years.  This program is successful at helping families start new lives free from abuse.
CAPSA Transitional Housing Program
CAPSA is leading the state in domestic violence transitional housing programs.
CAPSA identified the need to own dedicated housing units for clients because of the shortage of affordable housing and for clients who otherwise not qualify for standard housing.
CAPSA now owns or manages 16 homes and this will increase by the end of FY 21.
CAPSA built a nine home neighborhood which was completed in 2015. Place is the first and only neighborhood in Utah owned and operated by a domestic violence nonprofit. Families stay in these homes for up to two years.
CAPSA self-subsidies these properties, so the burden for expenses is on CAPSA.
9 Homes
The Dell Loy Hansen Family Foundation purchased a fourplex in Logan for CAPSA's exclusive use. The renovation was paid for by the Real Salt Lake Foundation and became available in April 2020. Families stay in these homes for up to two years.
CAPSA manages these properties and is responsible for maintenance and repairs.
4 Homes
In 2019, CAPSA purchased an unfinished development, which includes an existing triplex and five building lots. CAPSA began construction of the five homes in the spring of 2020 and the neighborhood opened May 2021. This neighborhood is called Independence Way and will be CAPSA's second neighborhood.
8 Homes
Support CAPSA's Housing Program
Sponsor a Home and Family
Housing sponsors support our housing program with an annual sponsorship of $6,000. This represents the average cost for CAPSA to provide housing assistance. These funds will cover housing expenses and program funds.
House sponsors receive:
Signage one of CAPSA's home – "THIS HOME & FAMILY IS SPONSORED BY YOUR ORGANIZATION"
Service projects/ team building activities
Recognition at fundraising events (Golf Tournament, Trivia Night, Fall Gourmet Dinner, and more)
Knowledge you support a home and family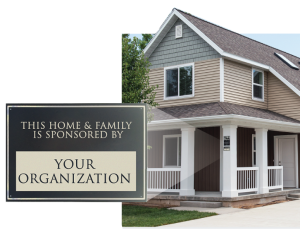 Contact James Boyd to learn more about home sponsors at 435-753-2500 or james@capsa.org
We currently only have 1 home sponsorship available in Independence Place. We are now seeking sponsors for Independence Way which will open in Spring 2021. 
A housing endowment is a permanent, self-sustaining source of funding which ensure future housing needs will be meet.
Housing is such a core need. By donating to CAPSA's Housing endowment you will be supporting clients with housing assistance, shore up programing and maintain CAPSA owned properties.
Learn more about endowments and housing endowment